Люстра Чивас Ригал от Bottleology, в качестве плафонов использованы пузыри редкой,эксклюзивной серии, выпущенной специально для одного из юбилеев Фиделя Кастро, емкости 4.5,1.5 и 0.7 литра соответственно
Приглашаем Всех мастеров и мастериц по рукоделию принять участие в нашей очередной ярмарке Handmade FREE ART
в ТРК "Континент" на Звёздной в красивом помещении в стиле французского дворика.
Любой желающий получит возможность приобрести здесь уникальные вещи, которые не найти на полках в обычных магазинах. Лучшие мастера и мастерицы города представят украшения ручной работы, декупажные шкатулки, вязаные изделия, из шелка, декоративные подушки, оригинальные сумки, одежда и аксессуары handmade, оригинальные предметы интерьера, а также многое многое другое.
Дни проведения ярмарки: 22-23 и 29-30 ноября
На ярмарке предоставляется оборудование: стол 120х60, стул, скатерть, хранение вещей на ночь.
Дополнительное оборудование согласовывается.
Высокая проходимость и отличное настроение гарантируются!)))
Подробнее об условиях участия Вы можете в нашей группе в обсуждениях - https://vk.com/freearthandmade или здесь - http://www.livemaster.ru/topic/964199-yarmarka-handmade-free-art
Также записаться на ярмарку Вы можете в личном сообщении в VK, либо по эл.почте kseniya_piter@mail.ru
Ждём ВАС!)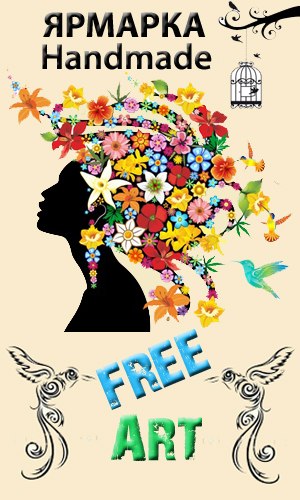 Приглашаем мастеров, рукодельниц и Всех творческих людей поучаствовать в нашей ярмарке Handmade - Free Art, которая будет проходить
13 сентября 2014г. в Санкт-Петербурге на Елагином острове в честь дня рождения ЦПКиО.
Здесь Вы сможете реализовать свои авторские рукодельные работы, а также провести платные мастер-классы.
Спешите записаться! Количество мест ограничено.
I really want to hand make something for my boyfriend as a gift but having difficulties coming up with ideas. He is a huge nerd. He loves comic books (particularly Marvel), he loves Star Wars, and classic video games. Any ideas?
My boyfriend has two kids who live across the country and unfortunately, he won't be able to see them for Father's Day this year. I have a few questions-First, would it be weird for me to get him something, just a little something random (we've been living together for almost a year), or is that something only a wife/child should do? I see these cards from wife to husband for father's day, telling him what a great dad he is-they're very true for him. He's a fantastic dad, but we're not married (and his kids are from his former wife, and I have no children), so it doesn't completely fit. I wanted to get (or make) a card (ALL SUGGESTIONS WELCOME since I have never made a card before, unless you count the ugly ones from childhood), and get him these cute grill themed potholders, a grilling kitchen towel, and some steaks for us to grill out for him for father's day-He loves to grill. I was also considering making an apron for him to wear while grilling, but I'm not sure if it would come off a bit too girly? I found this cute one on pinterest, and I wanted to add a denim bottom to it, and add this cute father's day tie I found (it says "it takes an extraordinary man to be a father" or something like that) but I can't decide if that would come off too girly, too cheesy, or just plain weird? I've included a picture of the apron just to help with your decision. Thanks!
gattayuli
в
С Рождеством!!!!! Buon Natale!!!! Merry Christmas!!!!
Дорогие дузья, поздрвляю вас с католичским Рождеством!!!! Счастья вам, хорошего настроения и радости!!!!!!
Cari amici, Buon Natale!!!!! Vorrei augurarvi tanta felicità, serenità e pace!!!!!!
Dear friends, Merry Christmas!!!!!! I wish you a lot of happiness, joy & good mood!!!!!!!!
Оригинал взят у
Вот и осень пришла. Похолодало, зарядили дожди. Очень хочется сесть в уютное кресло с чашкой горячего чая и погрузиться в интересную книгу или фильм. А лучше- сесть за стол и творить милые альбомчики и дневнички под хорошую музыку. Вот и на этот заказик захотелось чего-то теплого, весеннего и нежного. Вроде получилось. Мама малышки заказывала некоторые надписи на странички и оглавление всего содержимого. Получилось 12 картонных страничек с кармашками для теста, для бирок. Имеются все графики, места для отпечатков ладошки и ножки, конверт для диска, большой конверт на кнопке для памятных бумажек, 100 страничек для записей.
E' arrivato l'autunno. Il cielo è grigio, piove, fa freddo. Viene la voglia di nascondesi dentro una comodissima poltrona con una tazza del tè caldo e profumato e leggere o guardare un film preferito. Ancora meglio trovare le forze, sedersi dietro la scrivania e creare i nuovi diari e album per bimbi. Anche dopo aver ricevuto questo ordine ho voluto di fare qualcosa di caldo, tenero e pieno di primavera. E mi sembra che il diario è venuto bene. La mamma ha chiesto di mettere i titoli particolari sulle pagine e fare anche l'indice di tutto il contenuto. Ci sono 12 pagine di cartone con diverse bustine per il test, per braccialetti dell'ospedale, per cartoline o altre cosine importanti da salvare. Ho fatto tutti i grafici, c'è una busta per il disco, i posti da fare le impronte della manina e del piedino, 100 pagine per scrivere le note.
The autumn has arrived again. It's cold, raining, the sky is full of the grey heavy clouds. Now there is only one wish to find a comfortable cosy armchair, to prepare the cup of hot fragrant tea & to read the interesting book or watch the lovely old film. But most of all I would like to awake me a bit & create many beautiful diaries or albums for children. When I have got this order I wanted to make something warm, tender & full of the spring. I hope it's become well. The mum of the bay asked to put some titles on the pages & to make the summary of all the diary. There are 12 pages in cardboard with different pockets for the test, for the labels of the hospital, great pocket for different cards & things to save. There are all the usual graphics, the pocket for the disk, 100 pages for the notes.
(
Read more...
Collapse
)