The spring is here and summer is coming soon, so it is the time for butterfly gifts. I'll show you how to weave a beaded butterfly
I'm hoping for some advice/suggestions for crafts using champagne bottles. I'm Looking for ideas that don't cover the bottles label/design. I have a dom perignon bottle and another bottle with a very pretty design that I would hate to just put into recycling. Any ideas would be great, thank you!
Люстра Чивас Ригал от Bottleology, в качестве плафонов использованы пузыри редкой,эксклюзивной серии, выпущенной специально для одного из юбилеев Фиделя Кастро, емкости 4.5,1.5 и 0.7 литра соответственно
Приглашаем Всех мастеров и мастериц по рукоделию принять участие в нашей очередной ярмарке Handmade FREE ART
в ТРК "Континент" на Звёздной в красивом помещении в стиле французского дворика.
Любой желающий получит возможность приобрести здесь уникальные вещи, которые не найти на полках в обычных магазинах. Лучшие мастера и мастерицы города представят украшения ручной работы, декупажные шкатулки, вязаные изделия, из шелка, декоративные подушки, оригинальные сумки, одежда и аксессуары handmade, оригинальные предметы интерьера, а также многое многое другое.
Дни проведения ярмарки: 22-23 и 29-30 ноября
На ярмарке предоставляется оборудование: стол 120х60, стул, скатерть, хранение вещей на ночь.
Дополнительное оборудование согласовывается.
Высокая проходимость и отличное настроение гарантируются!)))
Подробнее об условиях участия Вы можете в нашей группе в обсуждениях - https://vk.com/freearthandmade или здесь - http://www.livemaster.ru/topic/964199-yarmarka-handmade-free-art
Также записаться на ярмарку Вы можете в личном сообщении в VK, либо по эл.почте kseniya_piter@mail.ru
Ждём ВАС!)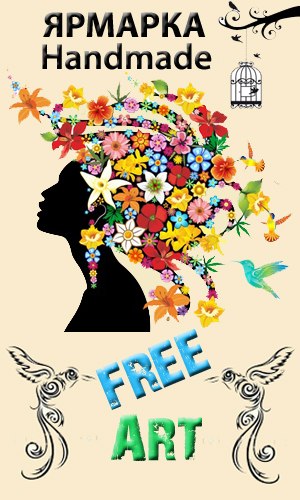 Приглашаем мастеров, рукодельниц и Всех творческих людей поучаствовать в нашей ярмарке Handmade - Free Art, которая будет проходить
13 сентября 2014г. в Санкт-Петербурге на Елагином острове в честь дня рождения ЦПКиО.
Здесь Вы сможете реализовать свои авторские рукодельные работы, а также провести платные мастер-классы.
Спешите записаться! Количество мест ограничено.
I really want to hand make something for my boyfriend as a gift but having difficulties coming up with ideas. He is a huge nerd. He loves comic books (particularly Marvel), he loves Star Wars, and classic video games. Any ideas?